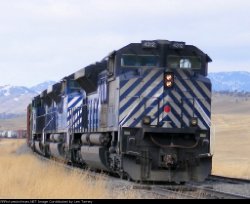 Welcome to the RRPictureArchives.NET contributor site of Len Torney.

I was born and raised on Long Island, and moved west to Arizona late in life. I now live in Montana, and work across the street from the old Northern Pacific yard and shops in Livingston. I grew up with the Long Island Railroad, and now I'm living with the BNSF, Montana Rail Link, and memories of the old Santa Fe. I am a sustaining member of the Santa Fe Modeling and Historical Society, the New Mexico Steam Locomotive and Railroad Historical Society, and the Northern Pacific Historical Association. I've always loved trains and hope you enjoy my photography here as much as I enjoy sharing it with everyone.

You may browse my collection of pictures via the menu located on the left hand side of the page. I hope you enjoy the collection and thanks for stopping by!
Note: This site is best viewed in Internet Explorer 6.0 or above.
Select one of the links from the menu on the left to begin browsing the collection.